Here is where you'll find lots of tips and advice in relation to our area of expertise - skin, beauty & wellbeing

I probably don't shout about this product anywhere near enough and some of you probably don't even know that Nimue have a fabulous Pro-Age Foundation to go alongside their skincare range.
The Nimue Pro Age Foundation is a NEW GENERATION lightweight TREATMENT FOUNDATION that comes in a 30ml tube, which offers medium coverage and a pro ageing 3D matrix with a double firming action. (available in 6 shades.)

So, what's so special about Nimue Pro Age Foundation:
It's light reflecting pigments enhance the facial contours creating a 3 dimensional effect. This ingredient also results in even pigment application and distribution for a velvety finish.

The key benefits are:
• Weightless texture providing a smooth finish
• Suitable finish for all day wear
• Softens and disguises lines and imperfections
• Provides moisturisation
• Offer a lifting and tightening effect
• Long-lasting anti-ageing benefits
• Skin barrier protection
• UVB protection
• Double firming action
• Non oily
This product is suitable for all Nimue Skin Classifications. If you would like to have a colour match, simply ask next time you're in salon and you can take away a sample to try at home.
When we think about Winter, we traditionally associate it with cold weather, dressing up warmly and less hours of sunlight as the days continue to shorten.
So why does Winter pose a problem for the skin? Humidity is low and the water content of the epidermis (most outer layer of the skin) tends to reflect on the level of humidity around it. When air outside is cold and dry, water in the skin evaporates quickly.
This, together with artificial indoor heating, will result in the following during winter:
▪ Dry, irritated skin
▪ Rough, flaky and itchy skin
▪ Increased sensitisation
▪ Possible burning sensations and inflammation
▪ Increase in fine lines around the eyes
▪ Dry, chapped lips
▪ Flushed nose and cheeks
Because we spend more time indoors during winter, we are more exposed to HEV or blue light, which causes further skin damage and a weakened skin barrier.
What happens when the skin is dry during winter?
Dry skin occurs when the skin does not retain sufficient moisture. With decreased temperatures, your skin can produce up to 10% less oil for each degree drop in temperature. In our skin, we have ceramides (lipids) that lock in moisture and create a barrier against the damage from external factors. Ceramides are lipid molecules that play an essential role in water retention and barrier function in the Stratum Corneum. Cold temperatures have an influence on the lipid production of the sebaceous
glands. At a lower temperature, the sebaceous glands produce less ceramides, creating a
drier skin in winter.
An interesting fact…people with dry skin and conditions such as Rosacea, Eczema and Acne have depleted levels of Ceramides which may lead to an increase in severity of their condition in winter.
Hyaluronic Acid is produced in the body, but particularly high concentrations is found in the skin. The primary function of Hyaluronic acid is to bind water in the skin. Additionally, it protects the skin against damaging environmental influences.
Ceramides, together with Hyaluronic acid, are important for optimum health and hydration in the skin.
A deficiency in either will lead to dry skin, particularly in the harsh winter months.
What should we look out for when treating our skin in winter?
When winter approaches and the temperature changes, we need to include products into our homecare regime that will rehydrate the skin and seal in moisture. To regulate TEWL (trans epidermal water loss), the focus will be on the skin's barrier. A strong skin barrier, with less skin irritation, will be a result of maintaining the skin's moisture levels. Skin moisturisers which rehydrate the epidermis and seal in moisture are the first step in combatting dry skin.
Ingredients that are key to perform this function are humectants. These are substances that absorbs water from the air or underlying layers of the skin and draw those molecules toward the surface of the skin, allowing the skin to retain moisture.
Boosting the ceramides within the skin will also improve corneocyte cohesion and barrier protection,
preventing TEWL.
I
▪ It is important to take extra care of your skin in winter especially if you have the following medical
conditions:
Hypothyroidism, Diabetes, Lymphoma Kidney, Liver disease, Psoriasis and Atopic Dermatitis.
▪ Some medications may dry the skin, more so in winter. A probiotic supplement will assist to combat
against inflammation and strengthen the skin's barrier.
The following measures are important to follow to have a healthy skin barrier during winter:
Healthy Lifestyle
▪ Drink plenty of water, less caffeinated drinks and alcohol
▪ Eat various foods that keep the skin well hydrated
▪ Include essential amino acids, which are the building blocks of our skin.
Adding Supplements
▪ Vitamin D
▪ Vitamin C
▪ Collagen,
▪ Omega 3's
▪ Probiotic
These supplements all play an integral role in the skin's barrier function.
Skin Care Products
Use Hydrating products which have both calming and soothing properties
▪ Cleansing - Using a gentle cleanser with a low, acidic pH level will protect the skin's acid mantle
▪ Conditioning - Make sure never to use products that contains alcohol. This will strip away moisture and cause possible skin discomfort.
▪ Exfoliation - A drier skin requires more focus on exfoliation. A gentle enzymatic exfoliator will remove dead skin cells and improve the penetration of ingredients that the skin needs for hydration.
▪ Adapt with moisturising - Just as we need to layer our clothing to keep warm, we need to layer our skin care products to provide increased skin protection. Keep the skin hydrated and nourished by adding serums and moisturisers with specific hydrating and barrier repair ingredients.
▪ Protection against the elements are key - Sun protection is equally important in winter, as it is in summer, safeguarding the skin against the damaging effects of UV radiation and the outside elements.
Nimue's product recommendation to winter-proof your skin:
Cleansing Gel - Lightly exfoliates and gently hydrates
Exfoliating Enzyme - Refines skin texture
Pre & Post Serum - Reinforces the skin barrier
Alpha Lipoic Activator - Anti-inflammatory properties, revitalizing a dull skin
Super Hydrating Serum - Immediate hydration
Fader Serum - Improves skin tone and overall complexion
Hyaluronic Ultrafiller Serum - Provides intense hydration and has a flash filler effect
Hyaluronic Oil - Increases skin moisture and boosts skin firmness
Day and Night Moisturiser - Provides immediate skin comfort and protection
SUN-C SPF 40 - UVA & UVB protection
Environmental Shield SPF 50 - UVA & UVB, HEV and Infra-red Protection
Your skin specialist at The Beauty Loft will be able to recommend specific products to suit your skincare needs. Why not take advantage of our free skin consultation so that we can advise you and help you to achieve your skin goals. our free skin consultation so that we can advise you and help you to achieve your skin goals.

RETINOL - Your skin saviour!
By Vicky Convy - Nimue Regional Educator: Europe and the Middle East
Why retinol?
Retinol is a derivative of vitamin A which is able to increase cell turnover, stimulate collagen and is a true ingredient that is able to "multi-task". Besides treating the effects of ageing, retinol has also been used to treat acne and hyperpigmentation.
What you need to know?
Vitamin A comes in different forms, including Retinols and Retinoids, which is somewhat confusing for most of us! Essentially, for your skin to process vitamin A, it needs to be converted into retinoic acid.
Retinoids as an ingredient on its own, require fewer conversions within the skin and are therefore the strongest derivative of vitamin A. This, however, is only available on prescription.
Retinol is a more diluted form of vitamin A as it requires more conversions within the skin and can be bought over the counter.
What is the difference between Retin-A and Retinol?
Retinoids come in prescription form and in a range of over-the-counter products. Prescription-level Retinoids fall into the following groups:
• Tretinoin, including the brands Atralin, Retin-A, Retin-A Micro and Renova
• Tazarotene, such as the brand Tazorac
• Adapalene, such as the brand Differin
All three groups prevent the build-up of dead cells in the skin's pores and follicles and all three promote the growth of healthy cells.
Common side effects include dryness, redness, irritation and skin peeling, as well as photosensitivity, making the skin more sensitive to the sun.
Retinol is found in many products that does not require a prescription. Retinols are much weaker than prescription Retinoids. Despite being weaker, do not be fooled into thinking that is has less effective benefits! Extensive studies have revealed that it has powerful anti-ageing benefits.
The conversion within the skin is as follows:
Vitamin A cannot be synthesized by the body hence it needs to be supplied to the body. Naturally, it is present as retinyl esters and beta-carotene. The retinyl esters are converted to retinol before absorption from the intestine and back to retinyl esters for storage in the liver.
How does it work?
Enzymes in the body convert retinol to retinoid acid, which is an active form of vitamin A. This increases cell turnover, stimulates collagen and elastin production. It is appropriate for treating skin conditions such as hyperpigmentation, acne and skin ageing in the form of lines and wrinkles. There is also strong research that it clarifies and evens the skin tone.
This conversion process doesn't happen immediately when you use a skincare product containing retinol. It may sometimes take several applications before it then changes into retinoic acid.
What are the skin care benefits?
As mentioned, Vitamin A has many skincare benefits. Nimue recently launched 5 Super Fluids which are 5 ingredient-based super fluids that contains a super concentration of an active ingredient. It provides therapists with the opportunity to completely customise the professional treatment according to the client's needs. A maximum of two super fluids may be added to any of the Nimue professional treatments. This will ensure that the client receives a unique and customised treatment according to their specific needs.
One of the Super Fluids is the Retinol Super Fluid which contains the ingredient Retinol, encapsulated in a Cyclodextrin Delivery System. It focuses on the repair of fine lines and wrinkles and in the treatment of age spots. Additionally, it assists in tightening the skin and assists in reducing and preventing the signs of photo ageing.
The Retinol Super Fluid is also able to achieve the following benefits:
• Tightens the skin
• Reduces age spots
• Assists in repairing, reducing and preventing signs of photo ageing
• Promotes collagen and elastin synthesis
• Increases hyaluronic acid content within the skin
• Effective free radical scavenger
• Improves skin appearance by stimulating cell renewal
Why has Nimue used an encapsulated version of Retinol in their skin formulations?
For Retinol to penetrate through the stratum corneum and cell walls effectively, delivery systems need to be incorporated. The delivery system that Nimue uses is the Cyclodextrin Delivery System. This allows for a controlled release of Retinol, as well as a greater and more prolonged bio-availability of the Retinol over a period, with an increase in activity but less irritation. Once applied to the skin, the Retinol is gradually released into the skin due to the slow-release properties of the Cyclodextrin System.
Where else is Retinol found in Nimue?
Encapsulated Retinol is found in the Nimue purifier, which is a night time treatment for Problematic skin. It helps to normalise keratinisation, balances oil and helps reduce acne scarring.
Conclusion
There is a selection of products to choose from that contain Retinol and Retinoids, as well as pharmaceutical preparations of Vitamin A. This can most definitely be confusing and may create further damage to the skin if chosen incorrectly. Derma-cosmeceutical companies like Nimue have spent years creating products that get the best out of vitamin A, without creating the typical Retinoid response.
This has been achieved by creating a delivery mechanism that allows for the gentle, slow release of Retinol and by combining Retinol with ingredients that work in synergy, reducing the potential side-effects of the Retinoids.
Nimue always ensures a slow and gradual skin approach, thereby respecting and maintaining the health of the skin.
Your skin specialist at The Beauty Loft will be able to recommend specific products to suit your skincare needs. Why not take advantage of our free skin consultation so that we can advise you and help you to achieve your skin goals.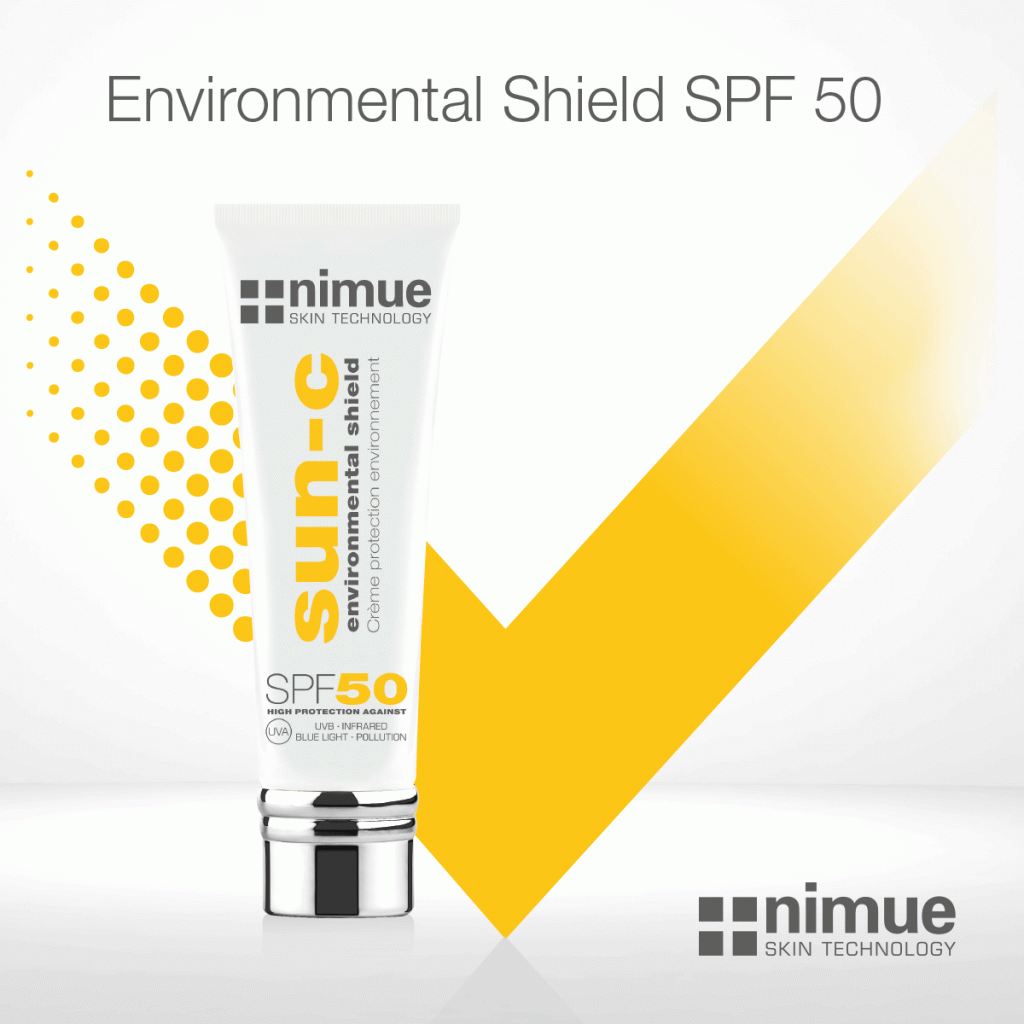 When we start dreaming about our skin during summer, we tend to envision it being tanned with a smooth texture and glowing radiance making you feel like a Bronze Goddess. Unfortunately, the reality can be quite different than we would like to imagine.
As we are more likely to expose ourselves to excessive sun during this prime time, we increase the risk of sunburn and premature ageing. With the increase in hot weather, we also experience water loss leading to dehydration and skin irritation. During summer, we also tend to produce more sweat and more oil, which may lead to further skin problems.
An interesting fact… our skin cell production is also more rapid during summer.
So, what are the key skin concerns during Summer?
▪ Sunburn
▪ Acne breakouts
▪ Melasma
▪ Dry, inflamed and irritated skin
▪ Prickly heat (or heat rash)
▪ Adequate protection from UV
What we know so far…
▪ Sunburn
 Something that comes about when we have not protected our skin effectively from the sun.
▪ Acne breakouts
 In summer, we get hot and we start sweating. When sweat mixes with bacteria and oils on the
skin, it can clog your pores.
▪ Melasma
 Being out in the sun can make those brown to grey-brown patches on your face more
noticeable.
▪ Dry, inflamed, irritated skin
 When outdoor air is hot and humid, you can still have dry, irritated skin. The biggest causes
are the sun, chlorinated pool water and air-conditioning.
▪ Prickly heat (or heat rash)
 Caused by blocked sweat glands.
 The sweat is unable to be released, resulting in a rash and tiny, itchy bumps on the skin
Some misconceptions about the Summer Sun:
▪ If you do not feel heat from the sun you will not get sunburnt
▪ Applying SPF once is enough
▪ If it is cloudy, you do not need sunscreen
▪ You cannot get sunburnt in water
▪ Any sunscreen will protect against UVA and UVB
With these misconceptions, we all know very well that there are a few immediate effects of sun exposure such as inflammation, skin thickening and the activation of MMP's (Matrix
Metalloproteinases).
There are also the long-term effects such as Melanocyte cells doubling in action, Langerhans cells decreasing, elastosis and collagen degradation.
What is sunburn?
Sunburn is skin damage caused by ultraviolet (UV) rays. It usually causes the skin to become
red, sore, warm, tender and occasionally itchy for about a week. The skin will normally start to flake and peel after a few days and will usually fully heal within seven days. It is still important to avoid a sunburn as it can increase your chances of developing serious health problems such as skin cancer, later in life. It is easy to underestimate your exposure to the sun when you are outside and enjoying the warmth of the sun while on holiday, as the redness does not usually develop for several hours. Breezes and getting wet from swimming may cool your skin, so you do not realise that you are getting burnt.
YOU SHOULD ALWAYS BE AWARE OF THE RISK OF SUNBURN IF YOU ARE OUTSIDE.
The Facts:
▪ 2 to 3 million non-melanoma skin cancers occur globally each year
▪ 1 in 3 cancers diagnosed is a skin cancer
▪ UVA and UVB causes photo-induced skin ageing
▪ DNA damage and protein damage
▪ When MMP's are stimulated, it damages the collagen and elastin fibres as well as the Hyaluronic
Acid in the skin
▪ Infra-red raises the skin's temperature, produces free radicals, accelerates skin ageing and reduces the
skin's natural anti-oxidant potential.
What should you do if you are sunburnt?
You should get out of the sun as soon as possible - head indoors or into a shady area.
You can usually treat mild sunburn at home, although there are some circumstances where you should seek medical advice.
The following advice may help to relieve your symptoms until your skin heals:
▪ Cool the skin by sponging it with cold water
▪ Have a cold bath or shower
▪ Apply a cold compress such as a cold flannel to the affected area
▪ Drink plenty of fluids to cool you down and for the prevention of dehydration.
What is Nimue's solution to protect against Summer Sun?
Our solution is to protect the skin using the highest quality graded ingredients to help support the
skin's barrier, assist with optimal hydration, anti-ageing by assisting the skin with its physiological
functions and improve the overall state of skin health by reducing or preventing the harmful effects of
UV, IR rays and HEV on the skin.
A few tips you can use, seeing that you might be showing more skin than usual during Summer!
▪ Use an appropriate Cleanser 2 x a day.
▪ Regular exfoliation 2-3 x times a week.
▪ Keep skin well hydrated with a moisturiser (Specific day and night moisturiser suited to your skin classification)
▪ Daily usage of SPF (when in doubt, apply and re-apply!)
▪ Keep body hydrated by making friends with H²O. (8 glasses of water a day)
▪ Soothe your over-exposed skin - (Apply Nimue After Sun Hydrator or Vitamin C Moisture Mist)
What products do Nimue Recommend?
Cleansing Gel - Lightly exfoliates and gently hydrates
Pre & Post Serum - Reinforces the skin barrier
Nimue-TDS - Provides optimal hydration and barrier protection
Element Barrier - Defends against UVR, Infra-red, heat and cold shock
Hyaluronic UltraFiller Serum - Provides intense hydration and has a flash filler effect
Super Hydrating Serum - Superior moisturisation
Day Moisturiser - Regulates oiliness and dryness
Exfoliating Enzyme - Gently detaches dead skin cells
After Sun Hydrator - Soothes the skin following excessive sun exposure
Vitamin C Moisture Mist - Invigorates & refreshes skin, leaving it revived and radiant
SUN-C SPF 40 - UVA & UVB protection
SUN-C Environmental Shield SPF 50 - HEV, UV and IR Protection
Your skin specialist at The Beauty Loft will be able to recommend specific products to suit your skincare needs. Why not take advantage of our free skin consultation so that we can advise you and help you to achieve your skin goals.
HOW CAN STRESS AFFECT THE SKIN?
Stress, anxiety, uneasiness….during these uncertain times that we have all had to go through, many of us have expressed these feelings and emotions. When we are in a long-term state of stress, our immune systems are compromised and we produce more "stress" hormones. This, in turn, reduces our body's natural ability to protect us, lowers our immune systems further and increases inflammation in the body.
HOW CAN STRESS AFFECT THE SKIN?
• With long-term stress, the body produces too much cortisol (stress hormone) which increases sebaceous gland activity
• This may cause an increase in the production of sebum which results in breakouts and skin sensitivity
• Cortisol weakens the skin's immune system which leads to oxidative stress, resulting in wrinkles, fine lines and dull tired skin
• Due to inflammation caused by stress in the body, you will also see conditions such as eczema, rosacea and psoriasis.
HOW CAN YOU TREAT YOUR SKIN IN THESE STRESSFUL TIMES?
• Focus on self-care
• Protect the skin from UVA, UVB, IR, HEV and pollution by building the skin barrier.
• Incorporate additional products into your Nimue daily skincare routine that assists with hydration, repair and protection of the skin.
• Exfoliate and use face masks (not the ones we currently have to wear to protect against Covid-19) on a regular basis. The Nimue Exfoliating Enzyme will gently remove surface dead skin cells and promotes cell renewal. Follow with a Nimue mask that will play an important role in helping stressed skin and the reactions that arise from it.
Your skin specialist at The Beauty Loft will be able to recommend specific products to suit your skincare needs. If stress is affecting your skin, please book a free skin consultation so that we can advise you and help you to achieve your skin goals.
WHAT'S SO BAD ABOUT FACIAL WIPES?
So, this is how it went… late night, upstairs, so tired, standing at the sink is just not on your to do list and so you reach for the face wipes….
I understand they seem easy, I understand they are convenient. The wipe turns black from mascara with a hint of lipstick and blusher so you feel content you are clean BUT…
Your skin will not be thanking you.
You are kidding yourself if you think it is all off…..
The next key skin truth you need to know is that you get out what you put in. If you don't want to dedicate any time and effort to your face this will absolutely show as you get older. If you don't want to look like a flaky skin crocodile then you need to invest some time.
So why are face wipes not the answer...?
1. They leave residue on your skin - these are not the prime elite ingredients you would like sitting on your skin. They have a barrage of heavy preservatives such as parabens, MI, triclosan, alcohol, ethanols. This is as they are moist cloths sitting on top of each other, wrapped in plastic in a warm shop environment, literally a breeding ground for bacteria. You do not want this sitting on your skin, they will be drying and risk irritation.
2. They don't really clean - without the right ingredients/oils/ plant bases you would have in gel and milk cleansers and without water you don't ever get your skin completely clean. They drag makeup from one side of your face to another. Always leaving make up on the skin will potentially lead to spots and blackheads or uneven skin.
3. Drying - see above. Not good on ageing skins but also not good on oily skins. If you over dry an oily skin at cleansing point your sebaceous glands just product more oil as you have stripped off your acid mantle balance.
4. Dragging the delicate eye area - you have to rub too hard to get the make up of using face wipes and it drags your eye area too much, this will lead to sagging dry irritated skin.
5. Terrible for the environment - apart from simply creating more waste people flush them down the toilet and there is a huge increase in the amount washing up on beaches. Most face wipes and nappy wipes are not biodegradable. Where do they end up?
Strong reasons why when you mention them to most beauty therapists they get a strange uncomfortable look on their face!!...
Convenience should not be your major motivation if you want to have amazing skin. It will always be nice if it occurs, for instance Nimue cleansing gels may also be used to remove eye make up too. Conveniently removing the need for eye make up remover. The daily core range needed for most skin classifications literally takes 3 minutes! That is all! I don't buy it when people tell me they don't have the time to take care of their skin.
For those of you who have daughters or friends you who know are using face wipes please share and email them about this 'crocodile skin avoidance' truth! In the meantime, we're always here to answer your skin questions.
Yours in great skin, Lisa xx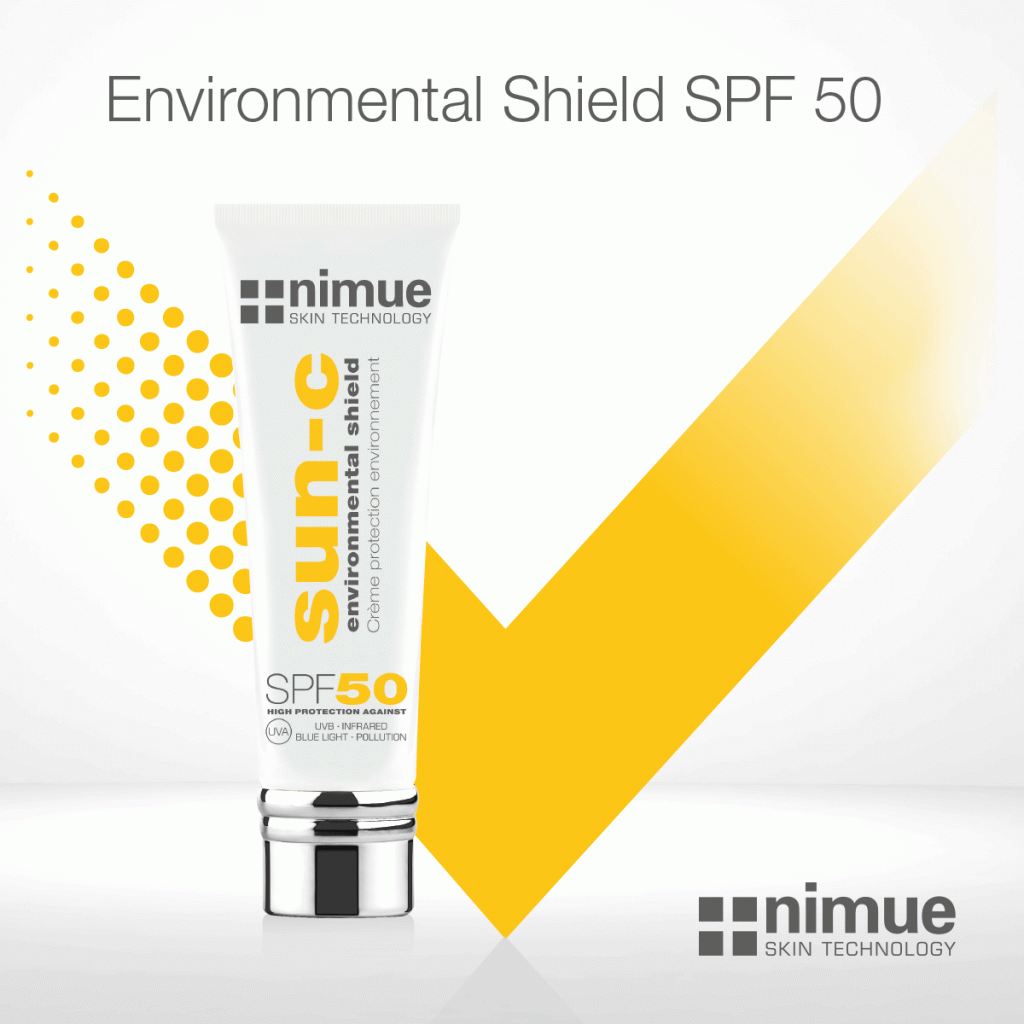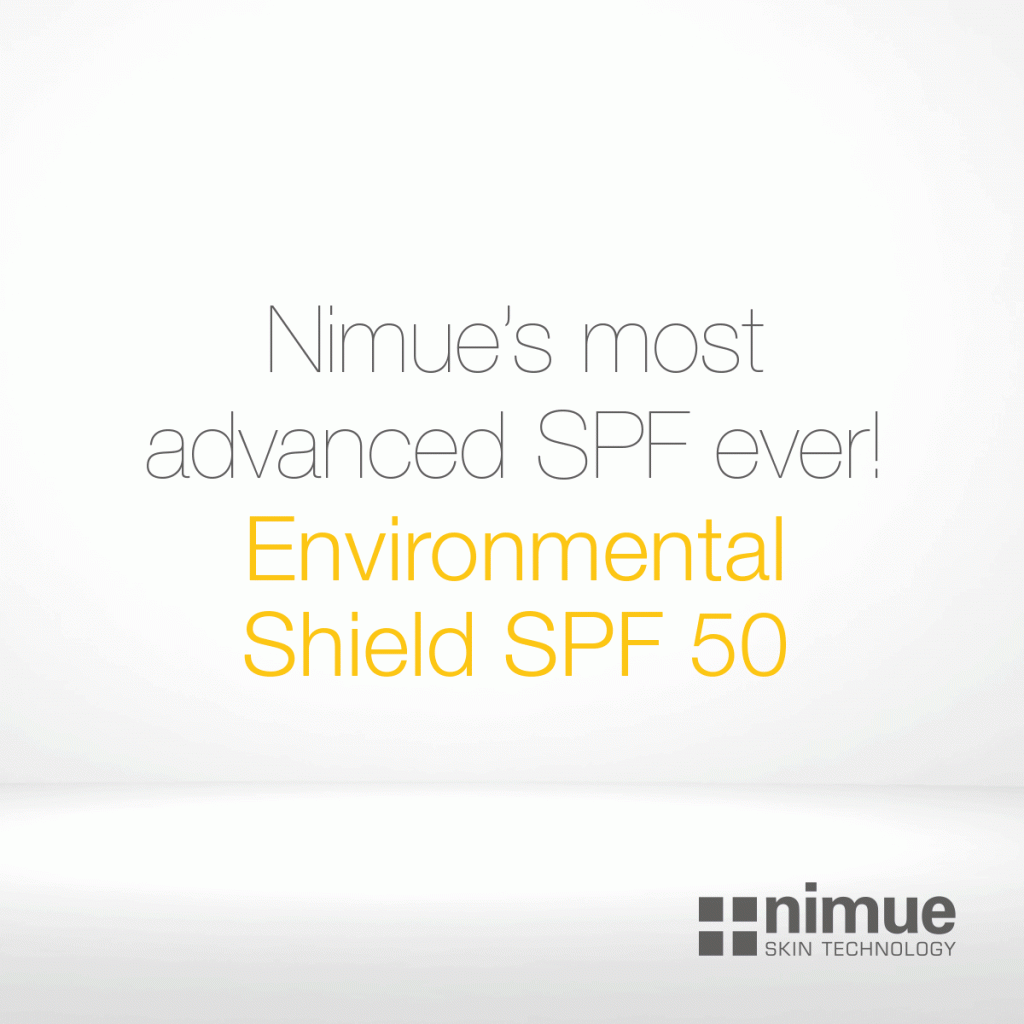 FACE MASKS AND SKIN REACTIONS - PART 3

3. PIGMENTATION CHANGES
As a result of friction from the mask, or due to irritation and underlying inflammation
caused by an excessively dry skin, together with possible skin rashes, the skin may develop certain pigmentation changes around the areas of the mask.
▪ Darker areas of pigment may develop
▪ Existing pigmentation in the areas covered by the mask, may become darker
Nimue Recommendations
If prone to hyperpigmentation, make sure to avoid any possible skin irritation or inflammation.
▪ Cleansing Gel / Cleansing Milk
▪ Conditioner with gauze
▪ Pre & Post Serum
▪ Active Lotion / Active Gel
▪ Day Fader / Day Fader Plus
▪ Night Fader / Night Fader Plus
▪ Fader Serum
▪ Nimue-TDS™ Hyperpigmented
▪ Fade Treatment
▪ Exfoliating Enzyme
▪ SPF 40 / Environmental Shield SPF 50
ADDITIONAL TIPS
▪ Exfoliate the skin regularly with Exfoliating Enzyme. It will help remove dead skin cells, which accumulate under the mask and lead to blocked pores
▪ Problematic Spot Treatment should be added to your routine as breakouts may occur
▪ Element Barrier may be recommended for all skin classifications, as it helps protect the skin against heat and cold shock and provides additional protection to the skin barrier
▪ Pre & Post Serum will help to keep the barrier intact and keep the skin hydrated
▪ Wear Nimue SPF 40 / Environmental Shield SPF 50 daily. Even if you are indoors, it is still important to protect the skin against pollution, HEV and IR rays.
Important to note:
With global quarantine conditions, internet service has already spiked 50%. Flat screen TVs, mobile phones, computer and tablet screens emit a high-energy blue light that penetrate the skin and cause damage. Premature photo ageing, hyperpigmentation, inflammation, damage to the skin barrier function and dry, irritated skin are the some of the common causes of excessive exposure to blue light.
▪ Avoid aggressive and harsh chemicals, which will further dry out the skin
▪ Go make up free as much as you can
▪ Keep skin hydrated as most breakouts are exacerbated by inflammation triggered by dryness
▪ If the skin becomes very uncomfortable, make a cold compress by placing a clean cloth in cold water, ring out the excess water, then lay it on a clean skin to help soothe
▪ When you get home, remove the mask, cleanse your skin and hydrate with a Nimue moisturiser
▪ If you have a re-usable mask, wash it often (if not daily) and make sure to dry it out in the sun and iron.
Hope this helps.

Lisa xx
FACE MASKS AND SKIN REACTIONS - PART 2

2. CHAPPED, DRY AND SENSITISED SKIN
Certain masks, particularly the cotton blend masks, absorb the skins natural oils,
causing the skin to become irritated and dry.
▪ People with sensitive/sensitised skin are even more prone to dryness and irritation. This could become itchy and cause a scaly rash.
▪ People with inflammatory or chronic skin conditions e.g. Rosacea, Eczema and Psoriasis, are likely to experience increased flare ups.
Nimue Recommendations
It is extremely important to build up and protect the skin barrier, as this will prevent
the loss of water.
Keep the skin well-nourished and protected against the elements.
▪ Cleansing Milk / Cleansing Gel Lite
▪ Conditioner Lite
▪ Pre & Post Serum
▪ Super Hydrating Serum
▪ Hyaluronic Ultrafiller Serum
▪ Moisturiser Lite
▪ Exfoliating Enzyme
▪ Nimue-TDS™ Interactive
▪ SPF 40 / Environmental Shield SPF 50
▪ Super Hydrating Mask
▪ Element Barrier
▪ Hyaluronic Oil
If need some extra advice, don't hesitate to get in touch.
Hope this helps.

Lisa xx
FACE MASKS AND SKIN REACTIONS - PART 1

Amidst the Covid-19 pandemic, it is becoming more common for people to wear a face mask to protect yourself and others from contracting the Coronavirus. It is becoming a new normal to see everyone around us wearing face masks. It may even become the latest fashion accessory!
But what is this doing to our skin? It may become even more reactive when wearing the mask for long periods of time.
In this article, we will look at the various skin reactions that may occur, or be aggravated, with the wearing of face masks and what Nimue recommends, should this happen to you.
What are the various skin reactions that may occur with the wearing of a protective face mask? In this blog we will discuss breakouts:
1. BREAKOUTS
There is a type of acne called Acne Mechanica. It occurs when the skin is undergoing repetitive friction, is covered for a long period of time, is under excess pressure or exposed to heat.
With the wearing of a face mask, there is an increased chance of Acne Mechanica occurring.
▪ Wearing a mask may cause you to sweat, which may result in breakouts or an increase in breakouts, particularly around the areas which the mask covers.
▪ Sebum, produced by your pores, together with the oil in your cosmetics, may collect in the lining of the mask. This will be in contact with your skin and create the perfect breeding ground for bacteria, causing breakouts or an increase in breakouts.
▪ With the frequent washing of the reusable masks, the laundry detergents and
fabric softeners in which it is washed, may cause irritation of the skin and a rash-like breakout may occur.
What can you do to prevent this?
Ensure that a clean face mask is worn every day and if you are wearing disposable masks they should be replaced frequently throughout the day.
It would be suggested to change your laundry detergent or fabric softener to one that is recommended for sensitive skin.
Which Nimue products should I be using?
▪ Cleansing Gel / Cleansing Milk / Cleansing Gel Lite
▪ Conditioner with gauze
▪ Pre & Post Serum
▪ Active Gel / Active Lotion
▪ Moisturiser Lite / Nimue Day
▪ Purifier
▪ Exfoliating Enzyme
▪ Environmental Shield SPF 50
▪ Problematic Spot Treatment
▪ Corrective Serum
▪ Nimue-TDS™ Problematic
▪ Clarifying Mask
If you are suffering with acne or breakouts and need some extra advice, don't hesitate to get in touch.
Hope this helps.

Lisa xx
HOW CAN I PROTECT MY HANDS AND STOP THEM GETTING SO DRY & CHAPPED?

With the onset of the Covid-19 pandemic, there was one important thing that all medical experts seemed to agree upon. This was that one of the best ways to protect ourselves from contracting the Coronavirus, is to wash our hands frequently with soap and water. If soap and water is not available, then alcohol-based hand sanitiser is the next best option to rid our hands of unwanted germs.
Like the wearing of face masks, frequent hand washing, using hand sanitisers and the wearing of gloves, will also result in a few reactions that we would possibly expect to see on our hands. These include the following:-
▪ Excessive dryness
▪ Inflamed skin
▪ Cracking and peeling of skin
▪ Itchiness
▪ Allergic contact Dermatitis (in extreme cases)
Nimue recommendations:
As we will continue to wash our hands frequently and use hand sanitisers, it is important that we protect the skin and treat the hands even more specifically with hydration and nourishment.
▪ Exfoliate the hands 2-3 times a week using Exfoliating Enzyme
▪ Treat the hands with a mask by either choosing Super Hydrating Mask or Anti-Ageing Leave On Mask
▪ Remember to use Anti-Ageing Hand Cream continuously, particularly each time after washing your hands
Hope this helps.

Lisa xx
HOW CAN I PRACTICE SELF-LOVE OF MY SKIN, KEEPING IT HEALTHY AND GLOWING DURING THE COVID-19 PANDEMIC?

Eat well: Avoid diets high in sugars thus avoiding glycation
▪ Sleep
▪ Manage your stress levels
▪ Stick to your basic Nimue skincare routine: Cleanse twice a day, even if you do not wear makeup. Your skin is exposed to pollution whether you stay indoors or wear no make-up
▪ Condition your skin twice a day as this will help to enhance the skin rejuvenation process
▪ Always use a day and night moisturiser appropriate for your skin concerns
▪ Include a Nimue-TDS™ into your daily regime to repair your stressed skin barrier
▪ Get active!! Use your Nimue Active Gel or Lotion as prescribed
▪ Do not forget your Nimue sunblock!! Even if you are indoors, your skin may still be exposed to HEV (blue light) and radiation through glass
▪ Weekly at-home treatments: Exfoliate two to three times a week. This is also a great time to try out multi-masking, where you can apply different masks on the skin, focusing on different skin concerns
▪ If you do not have a hypersensitive skin, why not invest in the Glyco Mask - a wonderful salon treatment alternative that will revive and boost a stressed skin!
THE CONSEQUENCES OF SELF-LOVE AND SELF-CARE
▪ You lower your risk for depression, anxiety, hypertension, heart attacks and other health related problems.
▪ You boost your immune system, lowering the chances of contracting colds and flus.
▪ You will improve overall skin health.
▪ You embrace your reality and stop blaming circumstances.
▪ You start living a life of abundance in every area of your life, allowing for growth to take place. The more you grow, the more you spread love and joy.
▪ You get back to living… not just being alive, but loving, caring, helping and appreciating people and life itself.
▪ You will feel safe in knowing that you will be there for yourself through life's journey.
REMEMBER, surround yourself with people who love and encourage you. Block out the "energy drainers" immediately. Follow your passion, whatever it may be and don't compare yourself to anyone else.
"BE YOUR OWN BEST FRIEND… BE GOOD TO YOURSELF!
TO LOVE OTHERS, YOU MUST LOVE YOURSELF FIRST."
Thanks to www.nimueskin.com for this great advice!
Lisa xx
To Shave or not to Shave - Ingrown hairs

Male beard growth is stimulated in the follicles by testosterone as well as the even more powerful male androgen hormone, Dihydrotestosterone.
Ingrown hairs develop when the hair curls and grows back into the skin due to incorrect shaving techniques. Individuals with coarse or curly hair have a bigger risk of developing this condition. Shaving a beard can promote development of ingrown hairs and is a big contributing factor.
When there is an ingrown hair, the skin reacts as it would to a foreign body.Typical signs of an ingrown hair are:
1. Development of bumps which are small, solid with a round shape
2. Development of pus-filled lesions
3. The affected area becomes darker, possible post inflammatory hyperpigmentation
4. Inflammation of the affected area accompanied by itching and pain
5. Presence of embedded hairs
So - how can ingrowing hairs be prevented & treated?
Regular exfoliation helps to remove dead skin build-up which may block the entrance/exit of the hair follicle.
Our facial treatments are great for deeper exfoliation and lightening any scarring and post inflammatory hyperpigmentation.
When using a wet razor, a single blade or wire-wrapped blade will prevent shaving too closely and changing the blade with every shave will ensure that no bacteria is spread and the blade does not become blunt.
Shave in the direction of the hair growth. Shave every second day, rather than daily if you can. Softening the beard first with a hot, wet cloth or shave while showering in hot water.
Picking and scratching of razor bumps must be avoided as this can lead to scarring and infection.
Hope this helps.
Lisa xx
Prescriptive skincare vs "off the shelf" skincare

Dermacosmeceutical vs Traditional Skincare
Skin Cleansing
Traditional cosmetic skin cleansers can leave the skin feeling tight and dry. This is because they are soap based with an alkaline PH which strips the skin's natural acid mantle.
Derma-cosmeceutical cleansers work to restore skin health without irritation by using acidic based cleansing ingredients that leave the skin feeling moist and plump.
Day & Night Moisturisers
By using rich moisturisers that simply sit on the surface, the skin loses it's ability to hydrate itself, thereby creating a negative feedback cycle. What do I mean by this?
Constantly adding oil and moisture to the skin allows your skin to become lazy. This in turn means that it craves more moisture as it stops hydrating itself, so you have to use even richer cosmetic moisturisers to combat this. The skin then becomes even lazier....you can see where this is going right? So, you have to use something even richer and so it goes on. That negative feedback cycle has been created, simply by using incorrect products. This is because traditional cosmetic skincare is only beautifying on a superficial level. You can usually feel a layer on your skin when you've applied a cosmetic moisturiser.
In contrast, prescriptive skincare re-educates the skin to function at its best. Through healing and restructuring the skin by treating the cause, not the symptom, the skin is able to hydrate itself. With superior product penetration (no layer left following application), the signs of damage can be treated with amazing results.
There is also an ongoing relationship between you (the client) and your skin specialist. We all know that our skin changes constantly whether it's with the seasons, medication, our lifestyle, our hormones etc. so it's important to have the constant support and advice of your skin specialist who can address those changes by tweaking your daily skin regime and offering prescriptive solutions. You don't get that with "off the shelf" skincare in my experience.
Hopefully, this will help you make more informed choices about your skincare going forward. As always,
Yours in great skin,
Lisa xx
Chemical vs Physical Sunscreens
:) Physical - Reflects Light :( Chemical - Absorbs Light
- Immediate protection - Takes 30-45 mins to work
- Non-Irritant - Can cause irritation (prickly heat)
- Does not penetrate the skin - Can penetrate into the skin
- Safe for all skin types even sensitive - Not safe for all skin types
- Anti-inflammatory & soothing - No natural soothing properties
- Natural minerals zinc oxide & Titanium Dioxide
UVA vs UVB Rays
Both UVA and UVB rays are in our atmosphere and can cause damage to the skin increasing the risk of skin cancers, however, UVA penetrates more deeply into the skin hitting the dermis causing visible wrinkles and ageing. UVB hits the epidermis (top layer) causing sun burn.
UVA can penetrate through cloud and glass so it's important to protect our skin against the damaging effects of UVA all year round - not just on sunny days. We recommend wearing SPF 40 EVERY DAY.
Always remember, our goal is to achieve optimal cell function. If we have optimal cellular function and we are able to delay cellular senescence, we can achieve the goal of a healthy skin.
Yours in great skin,
Lisa xx
Today we will look at a key chemical reaction that occurs within the skin and has already been taken into consideration with Nimue's Product Development.
Activation of MMP's (Matrix Metalloproteinases))
Within the dermis there is the ECM (extra cellular matrix) that provides structural and biochemical support to the surrounding cells. It is made up of GAGs and Hyaluronic acid and it provides the skin with support and plumpness.
Fibroblast cells, producing the collagen and elastin fibres and appendages are suspended in the extra cellular matrix.
What are MMP's?
MMP's are matrix metalloproteinases found in the dermis. They are enzymes that control tissue breakdown in the dermis. MMP's plays an important role in wound healing so that new connective tissue can be formed.
When do MMP's cause ageing?
When there is an excess of matrix metalloproteinases present, caused by UVA and UVB exposure, MMP's can increase as a result of ROS (Reactive Oxidative Stress). Additional factors for excess MMP production are medication and the natural ageing process.
The MMP enzymes become more active and degrade the fibroblast cells and connective tissue at a faster rate than normal.
The result is ageing, loss of elasticity, thinning skin, increase in skin redness and moisture loss.
How can we prevent this process?
The solution is to include MMP inhibitors as ingredients in our skincare products. Nimue's current homecare contains MMP inhibitors such as cyclotetrapeptide, milk peptides and manilkare multinervus to balance the degradation of older connective tissue cells with the replacement of new cells.
Always remember, our goal is to achieve optimal cell function. If we have optimal cellular function and we are able to delay cellular senescence, we can achieve the goal of a healthy skin.
Yours in great skin,
Lisa xx
Can't get to the salon for your usual resurfacing treatment? Here's a fabulous alternative

I'm sure those of you who have a regular professional skin treatment are missing those visits to the salon but now is a great time to take care of your skin in the comfort of your own home. We all enjoy a little pamper time..right? So what better way than to give yourself a home resurfacing treatment.
Nimue's homecare range is very different from "off the shelf" skincare as it is derma-cosmeceutical with a prescriptive approach to skincare. However, certain treatments may be carried out at home if you (a) are already using Nimue homecare and have therefore had a skin consultation and know your skin classification or (b) have had or have booked an online skin consultation and have been advised by your Nimue Skin Specialist that this treatment would be recommended for your skin classification.
Take a look at the video and if you fancy giving it a go, simply click the link below to order your products or book your virtual consultation. We are providing contactless deliveries locally or alternatively, can post your products directly to you.
Yours in great skin,
Lisa xx
Help - I have sensitive skin (Part 2 of 2)

In Part 2 of this series, we will look at some typical questions regarding a sensitised skin, what to be aware of if the skin is sensitised and solutions there are to treat a skin that is prone to hypersensitivity.
What are the causative factors that we need to avoid if we have a sensitised skin?
• Heat and humidity, which includes using hot water on the skin as well as a climate where the temperatures are high
• Extreme temperature changes i.e. going from a cold temperature outside to central heating inside
• Exposure to UV radiation as well as visible light such as Infra Red, found in any appliance that emits heat, and High Energy Visible Light, also known as blue light, which we are exposed to for long periods when using electronic items such as laptops, smart phone devices, tablets, HD televisions, etc.
• Both air and water pollutants as well as dirt and dust in the air
• Using incorrect products which contains harsh ingredients such as alcohol in certain toners, granular or abrasive "scrubs", highly fragranced products as well as incorrect treatment applications eg. chemical peels with a high percentage of acids on a skin which is sensitised and not indicated for those specific treatments. The skin barrier may become compromised as a result, exposing the skin to more elements, causing further skin sensitisation.
• Stress, as it disrupts the immune system both within the body and the skin
• An imbalance in hormones may trigger hypersensitivity in the skin
• Certain medication such as antibiotics may create skin sensitivity
What specific ingredients in skin care products should be avoided if the skin is sensitised?
As previously mentioned, anything which contains alcohol should definitely be avoided.
Certain cleansers may contain Sodium Lauryl Sulphate (SLS), a foaming agent found in many cleansing gels and shampoo, but is extremely drying on a sensitive skin.
Very granular exfoliators, a popular product to use if someone loves the feeling of a "scrub" on the skin, may contain apricot pips, peach pips. This may irritate the skin, causing an increase in skin sensitivity.
Mineral oils and lanolin-based ingredients should be avoided as it creates an occlusive layer on the surface of the skin, preventing the natural functioning of the skin and creating a more sensitized skin.
Lastly, perfumes, colourants and high percentages of alpha hydroxy acids should be avoided.
How can your diet influence a sensitised skin?
There is a saying "You are what you eat", and as the skin is the largest living organ of the body, it truly reflects what is happening internally. A diet which is high in sugar, caffeine, alcohol, simple carbohydrates results in inflammation and dehydration of the skin. The result is skin sensitization.
Poor digestion and food assimilation can also play a role in developing a sensitised skin. If there is difficulty in digesting food, not only is the body not receiving sufficient nutrition, but the undigested foods create gas, bloating and inflammation in the digestive tract. This kind of inflammation will affect many other body systems, including the skin.
With so much to be aware of and avoided, how then does one treat a sensitised skin?
It is important to remember that a sensitised skin is predominantly self-inflicted and as a result of lifestyle choices.
The first step in treating a sensitised skin is to remove the trigger or source of sensitivity, where possible. A thorough understanding on what causes the skin to react is essential. Some triggers may not be so easy to avoid…It is not always possible to relocate cities if the climate is the cause of a sensitised skin condition!
The skin will definitely need protection against what could possibly have caused the skin sensitivity.
The skin barrier needs to have a dual action approach – not only protection of the barrier, but also repair by building up and replacing the essential building blocks of the skin barrier.
Nimue has an excellent product that is applied before a day or night moisturiser called the Pre & Post Serum. This light textured product repairs and protects the skin barrier, decreasing the chances of developing skin sensitivity.
Additionally, we have the Nimue-TDS™ which not only supports the Pre & Post Serum with barrier repair and protection, but it also contains ingredients which are specific in treating certain skin conditions such as ageing, hyperpigmentation, a problematic skin with acne breakouts as well as a skin prone to redness and irritation, which, of course, is a sensitized skin!
Lastly, LESS IS MORE!!! We always tend to believe that the more of something we use, the better it will be, but it may have the opposite effect. When treating a sensitized skin condition, a slow and gradual approach with skincare should always be followed.
By following the correct approach in treating the skin, a sensitized skin is not something that we need to be burdened with our entire lifetime. It IS possible to create a strong, resistant and healthy skin again.
If you would like to know more, contact us to book a free virtual skin consultation, we'll be happy to help.
Yours in great skin,
Lisa xx
Help - I have sensitive skin (Part 1 of 2)

According to statistics from the American Academy of Dermatology, up to 90% of the population perceive their skin to be sensitive....that's a lot right?
Firstly, the question is…is it really sensitivity we are dealing with?
A Sensitive Skin is defined as a skin type and it is a skin that is easily responsive and stimulated, however, it usually is genetic with a predisposition to skin redness. The skin may have a lower amount of pigment, a thin epidermis and blood vessels may be seen close to the surface of the skin.
A sensitive skin is more common in a fairer skin, but it may not be as reactive as a client perceives their skin to be!
A Sensitised Skin, on the other hand, is a skin that experiences sensitivity primarily due to external factors and develops due to a poor lifestyle. This includes exposure to harsh environmental elements, pollution and incorrect cosmetics used as well as self-inflicted factors such as stress, poor diet, smoking and alcohol, to name just a few. A sensitised skin condition can affect anyone.
A sensitised skin is also often the result of a compromised skin barrier, allowing irritants, microbes and allergens to penetrate the skin and cause adverse reactions due to the skin being weaker. It is also due to a deterioration in the acid mantle, the cell membrane and the Langerhans cells.
There is a saying that "we are a product of our own lifestyle" and a damaged skin is the result!
The biggest problem that we have to prevent when dealing with a sensitised skin is inflammation.
So what is inflammation?
Inflammation is the body's response to a negative stimulus, be it infection or irritation. It is triggered chemically and by white blood cells, most notably neutrophils.
Inflammation is a good sign in that it shows that the white blood cells are actively working at the site to heal.
However, there is a problem…
Inflammation is a necessary self-defense mechanism – the immune system's response to infection, irritation, or injury. The problem is that sometimes, thanks to genetic and environmental factors, inflammation becomes chronic. Like a runaway train, it gains speed, stimulating the production of skin-eroding enzymes.
We can actually say that apart from sun exposure, inflammation is the next enemy of the skin. So if we have determined that your skin is sensitized….what do we need to be aware of to be able to protect the skin and prevent inflammation from occurring within the skin?
Make sure to look out for Part 2 of this article where we will go into what to avoid and what Nimue offers as solutions for a sensitized skin.
If you feel that you have sensitised skin and need some advice, send an email and we will be happy to help prescribe the correct solution for your skin.
Lisa xx
How can I tell the difference between dry vs dehydrated skin?

I often get asked this question and it's really quite easy to tell whether your skin is dry or dehyrated. There's a little test you can do:
Pinch your skin for a couple of seconds and then let it go. If it quickly returns to normal then it's not dehydrated, however, if it takes a few seconds and looks a little crinkly then, yes - it's dehydrated.
What's important about determining the difference?
Put simply, dry skin is lacking in oil whereas dehydrated skin is lacking in water. The two things need to be treated in a different way.
We all are familiar with dry skin. It can flake, itch, and cause an overall dull, rough, or lacklustre appearance. Usually, it's determined by genetics or hormonal or environmental factors that affect your skin's natural oil production. If you're dealing with dry skin, you're dealing with a lack of oil/sebum.
Dehydrated skin, on the other hand, is caused by a lack of water. When you don't drink enough water, it shows on your skin, leaving it less elastic and supple. Any skin type can suffer from dehydration, even oily skin and understanding dry skin vs. dehydrated skin is the key to knowing which day and night time treatments are right for you.
Nimue Day is a multi-functional moisturiser for the day that increases cell turnover and balances oiliness and dryness • Improves hydration and has barrier repairing properties with Active Ingredients:
0.5 % Triple AHA Complex - Exfoliates, hydrates, rejuvenates, lightens and brightens
3% Lacto Complex - Balances oil levels
Aloe Ferox - Humectant
Geranium & Lavender oil - Balancing and anti-bacterial
Moisturising balances oil production, keeps skin hydrated and delays the appearance of fine lines, protecting against pollution.
Night time moisturisers such as Nimue Night work in a different way, stimulating cell renewal and nourishing the skin whilst we sleep so that it stays soft and supple.
So, how can we prevent dehydration? Well, it's mainly caused by TEWL (trans-epidermal water loss). We need to drink plenty of water - at least 8 glasses throughout the day. We can also use a product specifically designed to prevent TEWL such as our Pre & Post Serum - another hero product that locks in water and helps with barrier repair.
Hopefully, you have found this useful. If you're still unsure, just drop me an email, I'm happy to help.
In the meantime, stay safe & well.
Lisa xx
What can I do to maintain skin health when I can't get into the salon for my usual active skin treatment?

I share your concerns! I too am missing my regular micro-needling treatments but with Nimue, we always have a solution! The Glyco Mask allows all you skin savvy people to continue your skin treatment programme from the comfort of your own home! Maintaining those results you've worked so hard for!
Our coveted Glyco Mask can be used once a week, takes just 10 minutes and leaves skin refreshed, glowing, taute and plumped - ideal for Environmentally Damaged & Problematic skin.
This product really packs a punch with it's high concentrate of actives, including
Amphoteric Glycolic Acid (10%!!) - Exfoliates, rejuvenates and renews skin cells. Salicylic acid - Exfoliates and improves cell turnover.
Sorghum Bicolor Stalk juice - Tightening and firming effect.
Kaolin - Absorbs oil, lightly exfoliates.
Phytosterols - Improves the skin's barrier function.
step by step: 1. Cleansing Gel, 2. Condition 3. Exfoliating Enzyme 4. Glyco Mask (10 mins, then remove with compress or flannel) 5. Apply TDS serum (optional) 6. Apply night preparation
To top it all we've reduced the price to just £20 RRP! What are you waiting for? This is a one time only offer whilst stocks last. Send us an email if you'd like one, we can deliver to your door!
Stay safe,
Lisa xx
How can I protect my skin from the damaging effects of UV?

don't know about you, but I feel so much better when the sun is shining. It's lovely to be able to sit outside in the garden, listening to the sound of the birds and the gentle breeze. We can almost pretend we're on holiday in some beautiful Greek taverna overlooking the sea......however, it's so important not to forget our SPF, every day, not just on sunny days. Why? Daily use of a sunscreen is of critical importance in maintaining skin health, protecting the skin against premature ageing as well as possible skin cancer. It is important to choose a product that offers protection against, UVA, UVB and IR. Most people understand why it's important to use SPF on sunny days, however, why do we need it when there's little to no sun present? I'll try to explain:
There are 3 chemical processes that take place, at a cellular level in the skin, that accelerate the ageing process: 1. Generation of Reactive Oxygen Species (ROS) 2. Glycation resulting in Advanced Glycation End Products (AGE's) 3. Activation of Matrix Metalloproteinases (MMP's)
These 3 factors are mainly dependant on the lifestyle of the individual as well as the environment in which they live.
Triggers and causes that increase ROS generation: UV, HEV, IR, Pollution, Cigarette Smoke, Alcohol, Stress, Disease & Infections, Unhealthy Diet so - let's just tackle UV & IR (infra-red) as this is what I want to focus on right now.
ROS is a free radical and is formed as a by-product of natural metabolic processes. The body uses anti-oxidants and enzymes to keep the amount of ROS under control. Depletion of these enzymes and anti-oxidants will result in Oxidative Stress.
The Nimue Solution: • Fused Ring Cyanoacrylate blocks/stops the formation of ROS/free radicals completely by quenching the excited state of these molecules, preventing the transformation into singlet oxygen. (Environmental Shield SPF 50) • Anti-oxidants scavenges and neutralises ROS/free radicals that has already been formed (All Nimue Products).
Next let's talk about MMP's:
Triggers and causes that increases MMP expression: The natural ageing process, UVA & UVB exposure and certain medications
What are MMP's and the effects: • Matrix Metalloproteinases are natural enzymes found in the Dermis and they include collagenase and elastase enzymes. • These enzymes are responsible for the breakdown of unhealthy connective tissue which will stimulate the remodelling of collagen and elastin fibres. • When the amount of MMP's increase, due to the various triggers and causes, these enzyme start breaking down healthy collagen and elastin, degrading these proteins at a faster rate than normal.
The result is premature ageing: Loss of elasticity, thinning skin, increase in redness and moisture loss.
What is the point of all this information? UV triggers the formation of ROS and MMP's, hence the need to use SPF every day. If you've read to the end, well done you! Hopefully, I have encouraged you to add an SPF into your daily skincare regime. If you have any questions, just drop us an email. In the meantime, have fun in the sun (safely).
Stay safe,
Lisa xx
/